Carl Gustaf (CG) Pettersson 1876 - 1953
The eldest son of farmers Carl-Wilhelm & Emma Pettersson, Carl Gustaf (CG) was to become world famous as the leading Scandinavian designer of motor launches in the first half of the 20th century.
Born in 1876 and raised in the islands of the archipelago near Stockholm, boats were integral to CG's life from an early age, whether delivering milk from the farm to the nearby islands by rowing boat or creating carved bark boats from trees on the farm. His formal education was completed at the Technical College in Stockholm, after which he became an apprentice to boat builder and inventor Francis Julius Frode in nearby Tynningo where he further developed his draughtsmanship and design skills.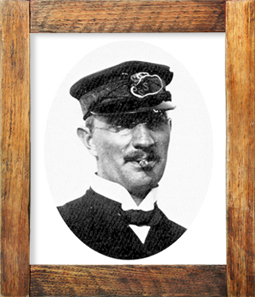 In 1902, having already married Maria Christina Berqvist, he started a small boatyard with his younger brothers, Robert & John. Their early success caught the eye of the Swedish Motor Co., which had developed a unique engine system known as 'Reversatormotorn'. Using this engine in the first of his own launches, all to be named 'Viking', CG achieved great success in the 1904 and 1905 seasons, winning races as far afield as Kiel in Germany. There followed a series of collaborations with other marine companies before he established his marine construction company at Liljeholmen in 1910.
The years 1910 - 1920 were very busy with an average of 40 designs a year coming from his drawing board. With such a heavy workload CG was grateful for the arrival in 1915 of Stockholm graduate Ruben Ostlund who stayed for five years before starting up his own design firm. The friendship they forged in those five years stayed for the rest of CG's life. In 1922 CG founded the AB Motor Agency and again when the workload grew too great he sought assistance, this time offering a partnership to engineer Einar Runius, who had caught CG's eye with some of his earlier, radical designs.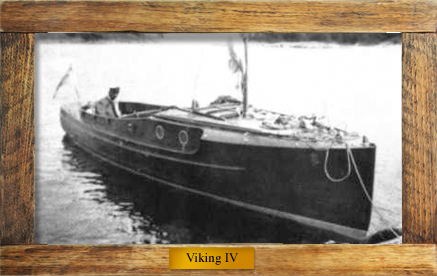 This partnership was to take the design of motor launches and powerboats to a new level in Sweden including in 1924 the first 'step' hull design, better known in Great Britain and America as a hydroplane. This was followed in 1925 by CG's most famous design 'Viking X' specially designed as a test hull for the prototype A2 engine from Penta(verken). In June that year CG, together with a crew that included cinematographer Carl Barak Lind and author Ragnar Holmstrom, made a grand trip around Scandinavia lasting nearly four months. On their return to Stockholm both the boat and the new engine were declared to have performed perfectly.
For the next 28 years until his death in 1953, CG continued to design a wide range of launches and ships for a wide range of private and corporate clients. Although his eyesight became very poor in the last few years, his portfolio of designs is well over 1,000. However, inevitably the years have taken their toll and fine examples of C.G's early classic designs rarely change ownership.