Read all about what others are saying about Virgo...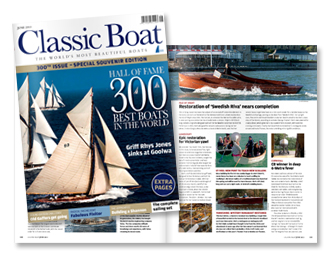 Classic Boat Magazine
June issue 2013
Restoration of 'Swedish Riva' nears completion
This striking launch has been the subject of an on-and-off restoration (winters in the yard, summers on the water) at the 146-year old Clare Lallows boatyard on the Isle of Wight since 2010. The last job, to reinstate the two-berth cuddy cabin, is now nearing completion but she already looks a picture. Virgo is 25ft (7.6m) long and was originally designed and built by the Swedish motorboat yard of CG Pettersson in 1925. She's designed for estuary and coastal cruising but her owner, Fenton Burgin, who also owns a classic 6-Meter yacht, says that her natural home might have been as a rich man's tender for a holiday house on the Swedish archipelago. coming as she does from 'Sweden's Riva'. Her upright stem, fine entry and broad shoulders make her ideally suited to the short, steep chop of the Solent, according to surveyor George Truckell. She's now powered by a 56hp diesel, which gives her a top speed of 14 to 15 knots, with sensible cruising at 10 knots. Finally, that beautifully varnished hull is mahogany planks on oak-and-metal frames, the metal providing extra rigidity amidships.